Member Spotlight / News - June 24, 2022
EUCOPE Member Spotlight: Q&A with Alnylam

Every month, EUCOPE spotlights a member company and the great work they're doing to advance the life sciences industry and drive innovation to serve patients better. In June, we spoke with Julien Patris, Head of Policy – International Markets at Alnylam Pharmaceuticals.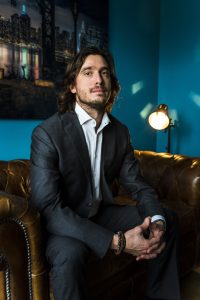 Julien Patris is Country Manager for Belgium and Luxembourg, as well as Head of Policy International Markets at Alnylam Pharmaceuticals. Prior to that, Julien had various roles in Market Access, Commercial Lead and External Corporate Affairs (Government, Media & Patient Relations) at International and Country level in various biopharmaceutical companies. An Economist by background, Julien specialised in Health Economics & Market Access Policy and has several academic publications in the field and teaches at ESSEC Business School a class on Managed Entry Agreements negotiations. Julien holds a MA from the College of Europe, a MA from Sciences Po Strasbourg and a University Diploma in Market Access from Claude Bernard University of Pharmacy.
Tell us about your organisation and its mission and how you drive innovation internally?
Alnylam was created by people who believed they could harness Nobel Prize-winning science to better treat human diseases. The company's technology platform is based on RNA interference (RNAi) technology, which has the potential to silence the expression of any gene in the genome.. Alnylam focused on this breakthrough in biology and has now brought several innovative products to market. Our products are licensed for a range of hard-to-treat conditions, both rare and prevalent. By pursuing this journey, we've been able to give hope to many people.
When Alnylam was founded, twenty years ago now, few outside of the company thought we would ever be able to make RNAi therapeutics work. The science was too new, the techniques were unproven, and the technologies required just didn't exist. But we believed, persisted, and made progress. That pioneering attitude, combined with our perseverance and resilience, still drives the company forward today.
We believe that our teams should aim high; our company mantra is 'Challenge Accepted'. The attitude that sets our 1,800 employees apart is the thought of patients who are waiting for new innovations, often the first approved treatment, which can successfully treat their disease. Through continuous innovation and a commitment to harnessing the full potential of its technology, Alnylam is leading on to the next phase of the RNAi revolution.
How do your organisation's activities help patients now and into the future?
After overcoming seemingly insurmountable early challenges, Alnylam has built a company which has developed three innovative therapies that are approved in Europe, as well as a fourth being commercialised by Novartis.  We also have a deep pipeline of investigational RNAi molecules coming through. This includes 12 mid- or late-stage development candidates, with programs in both rare and chronic diseases affecting larger populations. Our broad pipeline is based on the continuous improvement of our platform technology, and we have not set ourselves any limits on the range of diseases our therapies could treat. It's great to see the transformational impact our products have already had on patients' lives and looking to the future, we're continue to focus wherever there is a high unmet patient need.  Today, our robust pipeline includes several investigational medicines in diseases including hypertension, haemophilia, hepatitis B and Alzheimer's Disease.
Across Europe, we are investing significantly in building long-term collaborate relationships with healthcare professionals and patient groups, whose insights shed light on area of continuing patient need.  For example, we know from these relationships that encouraging dialogue within families increases individuals' empowerment, reduces stigma and could ultimately improve outcomes, so we are investing significantly in programs that help to bridge this gap and increase awareness, whether it be making genetic testing available for healthcare professionals, co-creating disease awareness resources with patient advocates, supporting their upskilling in the use of social media tools, or using technology to facilitate robust scientific exchange with KOLs and disease area experts at congresses.
More fundamentally, we believe we need to build a new social contract together with all healthcare stakeholders at large. This is why Alnylam led the creation of the Biotech Social Pact, a network of leaders in Biotech and Investors animated by the same values, and willing to bring forward innovative ideas and concepts of public-private partnerships that can contribute to a resilient innovation ecosystem (https://biotechsocialpact.com/).  
What do you see as the biggest challenge facing the life sciences industry today?
We are living in a golden age of medicine innovation, both for rare and prevalent diseases that present several public health challenges. New technologies being developed by companies in the biotechnology sector offer hope for previously "undruggable" diseases, with dozens of new therapies gaining approval each year, and a steady stream of medical advances which offer the future potential for others. In addition, the response from the industry to the pandemic was fast, effective, and highly collaborative.
The challenge is to ensure that patients are able to access these innovative treatments.  For biotechnology companies and those investing and delivering highly innovative therapies, ensuring that new medicines reach the patients who may benefit from them as soon as they're available has become increasingly complex in recent years.  While the therapeutic potential of those new medicines is high, the uncertainty about their real-life value may also be high. Given the relatively high cost of these cutting-edge therapies compared to older ones, healthcare authority concerns over price and sustainability are exacerbated, which in turn can turn the process of securing reimbursement into a 'battle' between the different stakeholders.
Delayed or unequal access is a clearly unsatisfactory status-quo – so what is the alternative? Current trends at European or National level are more geared towards amending existing policies and regulations, with the intended (or not) effect of reducing the flow of innovation. Innovation should be the solution, not the problem. We all see today how disincentivising the development of antibiotics led us to a deadlock. Good science requires good policy, and we cannot assess tomorrow's medicines with yesterday's regulations. So perhaps, rather than tweaking the current system, we should go back to the drawing board and create something fit for purpose.
How is Alnylam tackling this?
This is why we are focusing our policy and market access efforts not just on negotiating new innovative agreements for Alnylam medicines, but to developing a new approach that we believe will benefit the whole industry.  We have published what we call the Value-Based Negotiation Framework (VBNF), a tool that can potentially facilitate access discussions and agreements that meet patient needs across diverse geographies, while mitigating key concerns and enabling reimbursement, and making the whole process more transparent and predictable.
Another topic we are prioritising is to look at new ways in which the life sciences industry can play a role in supporting national health systems to use cutting-edge technologies to solve major public health issues such as chronic diseases. For instance, we very much believe in the concept of Population Health Approaches which redefine access holistically by creating public-private partnerships that combines R&D efforts, joint investments in infrastructure such as population databases and manufacturing consortia, and the rapid and large-scale rollout of innovative medicines in a sustainable healthcare system. We are actively working on identifying operational solutions to make Population Health Approaches a reality.
We know that making those concepts a reality isn't going to be easy as the current structures are very entrenched, but we believe that our future medicines can play a role in improving the health of society at large with the right policy environment. So the first step is to build strong partnerships across communities, businesses, local government and national health services so that we can thrash out the solutions together – at Alnylam we've always believed in doing this, and I believe that creating this dialogue across the life sciences industry will lead to creative new solutions that will benefit all stakeholders and ultimately communities. This is also the role of the Biotech Social Pact I mentioned above.
What attracted you to join EUCOPE and how can we help you achieve your business goals?
Alnylam definitely shares a common purpose with EUCOPE – to improve the lives of patients across the region through a commitment to innovation. Another shared goal is our desire to work in partnership, whether with scientists, clinicians, regulators, healthcare systems and of course patients and patient organisations.
Partnering with EUCOPE is a key part of our strategy to build on and develop additional productive working relationships, both at a regional and national level, to help us deliver on our business objectives and better serve patients.
Despite our ever-growing size, Alnylam retains a 'start-up' mentality and the ability to partner with like-minded organisations through EUCOPE is an exciting prospect.
One distinct feature of EUCOPE is its country and market access focus and expertise. Another one is its bottom-up approach and willingness to be innovation-driven before consensus-driven and allowing any of its members regardless of its size to bring forward an idea or project. Even for those members, such as me, that may skip a few meetings and emails ever so often!
---
For more information about EUCOPE membership
Visit our Benefits of Membership Page, or schedule an introductory call with our Business Development Manager Dante Di Iulio diiulio@eucope.org.