Member Spotlight / News - June 7, 2022
EUCOPE Member Spotlight: Q&A with Amgen

Every month, EUCOPE spotlights a member company and the great work they're doing to advance the life sciences industry and drive innovation to serve patients better. In June, we spoke with Nicholas Cosenza, Senior Manager, Government Affairs, Amgen.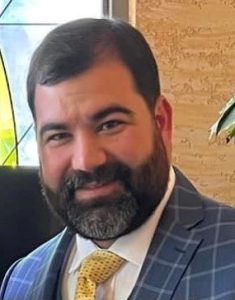 In his role as Senior Manager Government Affairs, Mr. Cosenza is responsible for leading Amgen's advocacy in Brussels and relationship with the European Union institutions. Prior to moving with his family to Brussels in 2020 Mr. Cosenza worked for Amgen in Washington D.C. with reponsibility for government affairs advocacy for countries in Europe and Eurasia. Previously, Mr. Cosenza worked on Eastern Europe, the Middle East, and Africa providing government affairs advocacy for Amgen in D.C. Mr. Cosenza started at Amgen as a project manager for Amgen's International Government Affairs team as well as the International Government Affairs Leadership Team. Mr. Cosenza was chair of the American-Romanian Business Council (AMRO) in 2016 and chaired the American-Central European Business Council (ACEBA) in 2018. Mr. Cosenza has a Master's Degree in International Trade and Investment Policy from George Washington University. He is also a graduate of the American University with Bachelor's Degrees in political science and international service and a certificate in leadership studies.
Tell us about your organisation and its mission and how you drive innovation internally?
At Amgen, our mission is to serve patients. As a biotechnology pioneer since 1980, Amgen has grown to be one of the world's leading independent biotechnology companies, reaching millions of patients around the world by discovering, developing and delivering transformative medicines that address the leading causes of death and disability and by finding new solutions to meet the growing demand for better quality healthcare for more people worldwide. We focus on seriously ill patients and high unmet medical need across six therapeutic areas: oncology, cardiovascular disease, bone health, inflammation, neuroscience, and nephrology.
Amgen was among the first to realize the potential of emerging genetics research and is since then committed to unlocking the potential of biology for patients by discovering, developing, manufacturing and delivering innovative human therapeutics. This approach begins by using tools like advanced human genetics to unravel the complexities of disease and understand the fundamentals of human biology. We are deeply rooted in science and innovation to transform new ideas and discoveries into medicines for patients with serious illnesses. Amgen invented many of the processes in use in the biotech industry today.
Our 2012 acquisition of deCODE Genetics is as a cornerstone of our genetics research focus. deCODE combines large-scale genetic data with phenotypic data from healthcare records and other sources to generate insights into the relationship between genetic variation and disease. They have also invented ways to leverage genealogical records to impute additional data by tracking the genes that travel together among blood relatives.
How do your organisation's activities help patients now and into the future?
Amgen focuses on areas of high unmet medical need, and we leverage our expertise to strive for solutions that improve health outcomes and dramatically improve people's lives. Our belief is that innovative, highly differentiated medicines that provide large clinical benefits in addressing serious diseases are medicines that will not only help patients, but also will help reduce the social and economic burden of disease in society today and into the future.
Working to meet the needs of as many patients as possible at a time when biotechnology and the data sciences are advancing at blinding speed, Amgen is focused on the pursuit of first-in-class and best-in-class therapies with large effects in serious diseases. Amgen has a sharp focus on the use of human data to inform target selection and the identification of the right patient populations to provide enhanced benefit for patients at most risk of disease. We are committed to innovation and to seizing opportunities arising from rapid advances in science and technology.
In addition, Amgen advocates moving from the current reactive "break and fix" healthcare model to a proactive and innovative public health approach aiming to predict and help prevent the impact of serious disease from occurring. We are seeking to intervene earlier to help improve patient outcomes, reduce cost, address population health and deliver sustainable long-term value to patients and the healthcare ecosystem.
Our commitment to patients extends beyond delivering innovative medicines, to creating healthcare solutions for those we serve. Read more.
What do you see as the biggest challenge facing the life sciences industry today?
The biggest challenge for the life sciences industry today is the same one it was yesterday and will be tomorrow – the challenge of treating serious illness. As we learn more about the underlying science that causes disease, we can find better-targeted treatments to help prevent and mitigate the effects of these. However, understanding the science behind illnesses continues to be a challenge requiring long-term commitments to research and though we have made great strides in genetics and biomarker testing there is still much we do not understand.
Another growing challenge for the life science industry is public trust in innovation to deliver positive effects for the healthcare of patients and society. As mentioned, the main challenge we all face as an industry is solving the burden of disease; however, some policy stakeholders see innovation as a cost to society instead of the solution to mitigating and ending this disease burden. Since the 1990's deaths from cancer have fallen by 20%, and between 2000 to 2012, the death rate from cardiovascular disease fell 37% in the EU5.[1] And although medicines and innovation continues to be a powerful tool to drive down the death rates of disease and help Europeans live longer, healthier and more productive lives, there is still work to be done.
For example, we took on one of the toughest challenges in cancer research of the last 40 years by developing a cancer medicine which targets KRASG12C.  KRAS has been one of cancer research's most difficult challenges, prompting many to believe that KRAS was "undruggable," leaving many patients with limited treatment options. Taking on the KRAS challenge was a race against cancer for us and our partner clinical trial investigators, which led to the fastest clinical trial program in Amgen's history.  The medicine received FDA approval in May 2021 and EU approval in January 2022. It is the first and only targeted therapy for patients with non-small cell lung cancer (NSCLC) who harbour the KRAS G12C mutation…and may point the way to a new generation of drugs for cancers that resist treatment.  Leveraging our biotechnology research experience, this breakthrough discovery was delivered to patients in less than 3 years—from first patient dosed to U.S. regulatory approval.
Innovative medicines offer our best hope to effectively manage disease and contain long-term healthcare costs. It is important to note, over the last 20 years, innovative pharmaceuticals make up a relatively small percentage of healthcare costs, around 15% of total healthcare expenditure[2], but these new interventions as well as other innovations are the only way we will overcome this burden of early death and later years of life spent in poor health that disease continue to cause in our society. Instead of a cost, innovation should be seen as an investment in creating a healthier and more resilient society.
What are the major health policy issues and themes that you are most focused on in 2022?
Like many in our industry, we are focused on the ongoing development of EU-level reform related to revisions of the Orphan, Pediatric, and General Pharmaceutical Legislation. We see this as a once in a generation opportunity to update the regulations to support the development of cutting-edge medicines and modernize the regulatory processes to be prepared for transformative new technologies. It is also an opportunity to reaffirm Europe as one of the leading regions for investment in cutting edge health technologies. Improving access and increasing innovation across the EU is an important goal that both governments and industry share, and proper policy tools should be used to achieve these goals. Revisions that treat incentives only as a way to deal with costs – instead of as tools to promote investment – will likely not achieve either goal. Ensuring any legislative revisions continue to have globally competitive incentives that promote investment in many unmet medical needs is critical for achieving the goal of improving lives of people with serious illnesses.
What attracted you to join EUCOPE and how can we help you achieve your business goals?
Since Amgen's founding more than 40 years ago as one of the first biotech start-ups of the biotech revolution, we continue to believe in the need of pharmaceutical entrepreneurs to have a voice in policy discussions to create a sustainable and encouraging environment for our industry. In many ways, our company culture continues to be one of a start-up, and the policies that promote risk taking in our industry we continue to see as vital to healthcare innovative ecosystem for all parts of the healthcare environment. We see EUCOPE as an important advocate on policy issues for our industry in Brussels and a critical voice that represents small, medium, and global companies, such as Amgen.
Our industry is only able to grow and develop medicines that help patients by having a robust ecosystem of start-up, small, medium sized companies, and large pharmaceutical firms. It is critical to have a perspective that represents each of these segments. Having EUCOPE champion the cutting-edge research and inherent risk-taking innovation required by our industry with policymakers helps to promote well-balanced policy proposals that allow all aspects of our industry to flourish.
[1] https://www.efpia.eu/about-medicines/use-of-medicines/value-of-medicines/
[2] https://www.efpia.eu/news-events/the-efpia-view/blog-articles/are-medicines-affordable-for-health-systems-the-myths-the-facts-and-the-way-forward/
---
For more information about EUCOPE membership
Visit our Benefits of Membership Page, or schedule an introductory call with our Business Development Manager Dante Di Iulio diiulio@eucope.org.