Member Spotlight / News - May 6, 2022
EUCOPE Member Spotlight: Q&A with MorphoSys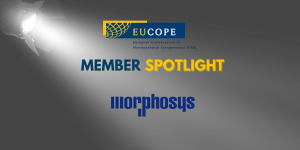 Every month, EUCOPE spotlights a member company and the great work they're doing to advance the life sciences industry and drive innovation to serve patients better. In April, we spoke with Malte Peters, M.D., Chief Research and Development Officer, MorphoSys.
Dr. Malte Peters joined MorphoSys in 2017 from Sandoz International where he was Global Head of Clinical Development of the Biopharmaceuticals Business Unit. Prior to this position, he served as Clinical Head and Site Head for Basel and East Hanover in the Oncology Translational Medicine department at Novartis. Malte held teaching appointments in Internal Medicine and Biochemistry at the University of Mainz, Germany.
Malte received an M.D. degree from the Freie Universität Berlin, Germany, and was trained at the Universities of Padova, Italy and Bochum and Berlin, Germany. After scientific work at different universities, he received his habilitation in Internal Medicine from the University of Mainz, Germany. Subsequently, he worked as Research Scientist at the Amgen Research Institute in Toronto, Canada, as Director of Cancer Research at Merck KGaA in Darmstadt, Germany and as Medical Director at Micromet AG in Munich, Germany. Malte is a member of the Board of Directors at Tango Therapeutics.
Tell us about your organisation and its mission and how you drive innovation internally?
Every two seconds someone in the world is diagnosed with cancer. But, this isn't just a statistic. It's our fathers, mothers, siblings, neighbors, and co-workers. It's the people we love.
At MorphoSys, we are driven every day by our mission: More Life for people with cancer. As a global, commercial-stage biopharmaceutical company, we are discovering, developing, and delivering groundbreaking medicines, aspiring to redefine how cancer is treated.
Our success is created by our people, and we bring together exceptional talent from around the world, offering our colleagues a collaborative, flexible, and diverse work environment. We challenge and hold ourselves accountable to deliver everything we do in new and better ways, operating with the highest level of integrity, respect and quality standards.
How do your organisation's activities help patients now and into the future?
Being able to help people living with cancer, give them hope, and improve their lives with innovative treatment options is our strongest motivation.
Our cancer immunotherapy, Minjuvi (tafasitamab), received conditional approval by the European Commission and other regulatory authorities in 2021 to treat adults with diffuse large B-cell lymphoma (DLBCL) whose cancer has returned or has stopped responding to other treatments and who cannot have an autologous stem cell transplantation (a transplant where the stem cells are collected from the patients themselves). It is also known as Monjuvi in the U.S. where we received accelerated approval from the U.S. FDA in July 2020. Outside the U.S., our partner Incyte has exclusive commercialization rights. We believe tafasitamab has the potential to treat other types of cancers beyond what its currently approved for. As such, we are currently exploring this medicine as a potential treatment for first-line DLBCL and relapsed/refractory indolent lymphoma.
In addition to tafasitamab, we have a strong and growing pipeline of investigational cancer medicines. One of these investigational medicines is pelabresib. Pelabresib is a novel, orally administered small molecule designed to selectively inhibit the function of BET proteins to decrease the expression of abnormally expressed genes in cancer. We are currently exploring the effectiveness and safety of pelabresib as a first-line treatment for myelofibrosis in an ongoing Phase 3 study, MANIFEST-2. We are currently enrolling patients in the MANIFEST-2 study, and we expect to report topline results from this trial in the first half of 2024.
What do you see as the biggest challenge facing the life sciences industry today?
There are many challenges facing the life sciences industry today. Two of the challenges that MorphoSys has been keenly focused on over the past few years is running and optimizing our clinical trials during the COVID-19 pandemic and clinical trial diversity.
At the start of the COVID-19 pandemic, MorphoSys took proactive steps to work with our researchers to ensure flexibility and meet the diverse needs of the patients that were participating in our clinical trials. Our goal was to ensure that our studies continued while ensuring the health and safety of our study participants. During this time, we learned of many ways we could enhance cancer drug development with long lasting benefits. This included but is not limited to re-designing the clinical trial experience to fit the participant's needs and convivence and accelerating digital and virtual tools to optimize clinical trial conduct.
Supplemental to this, MorphoSys has also been focused on ensuring diversity in our clinical trials. A person's ethnicity, race, age, and sex can impact how they respond to a certain medicine. Therefore, diversity in clinical trials is so important. But, while we've made incremental progress, some communities continue to be underrepresented in clinical research. Today, there are many barriers that prevent clinical trial participation, including geography, language, limited awareness, cost, and lack of trust within the medical community and drug development process due to discrimination and mistreatment in the past. At MorphoSys, this is a priority, and we are activating on multiple levels to make this a reality. For example, we are supporting academic centers to implement inclusive recruitment strategies and partnering with multiple stakeholders around the world, regulatory authorities, healthcare professionals, patients, and patient advocacy groups, to ensure a more inclusive future for clinical research.
What are the major health policy issues and themes that you are most focused on in 2022?
In the last decade, we have made incredible progress in our ability to treat cancer. But these breakthroughs mean nothing if people living with cancer can't access them. Today, too many people face challenges and barriers to timely and quality care due to their socio-economic status or where they live. We need to enact polices that remove inequalities in cancer care and accelerate access to innovation.
To do this, we need to get all the different stakeholders together, including the biopharmaceutical companies, to find sustainable solutions that put medicines into the hands of patients, regardless of their circumstances. We've seen firsthand in the development of COVID-19 vaccines that when we are focused on one, collective goal and collaborate, we can achieve the impossible. We should take this as a best-practice example for other areas of medicine.
What attracted you to join EUCOPE and how can we help you achieve your business goals?
EUCOPE brings together top industry leaders and key stakeholders to discuss relevant topics in all major segments of the biopharmaceutical sector. These forums tackle common challenges, share best practices, and provide opportunities to network, helping to create a thriving biotech environment in Europe that focuses on patients.
---
For more information about EUCOPE membership
Visit our Benefits of Membership Page, or schedule an introductory call with our Business Development Manager Dante Di Iulio diiulio@eucope.org.