Enhancing the EU's role in rare disease management: the case of Myasthenia Gravis
1. Jun 2023 — Register Here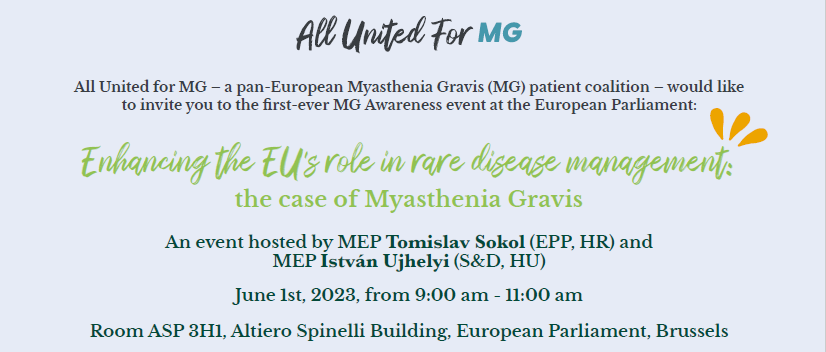 Join us to have a personal and exclusive "Virtual Reality"- based experience of the impact of MG on patients' lives, and discover how the EU could make a difference in those patients' lives by implementing 6 concrete recommendations.
The first-ever European MG Awareness Day, initiated by All United for MG, a coalition of patient organisations from Belgium, France, Greece, Italy, Poland, Romania and Spain, with the institutional support of argenx, aims to raise awareness about MG and its consequences for patients and their caregivers.
The conference will be opened by high-level speakers and structured around patients' testimonials and an immersive
experience, a pop-up Virtual Reality (VR) stand that enables users to better understand MG and experience first-hand some of the symptoms of the disease. This will be followed by a lively discussion on rare diseases with MG as a case study and the presentation of the Call for action.