News / Press Releases - November 2, 2022
Three new members join EUCOPE before the end of 2022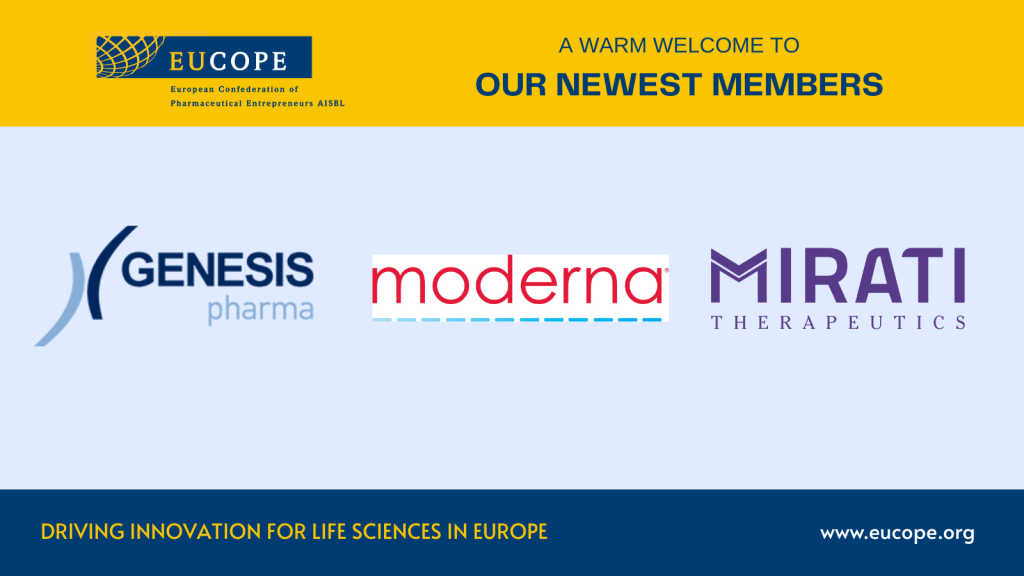 The European Confederation of Pharmaceuticals Entrepreneurs (EUCOPE) announced the joining of three (3) new members at its quarterly Members Meeting on October 19th 2022 following Board approval.
The new members joining EUCOPE network are: Genesis Pharma, Mirati Therapeutics and Moderna.
During the announcement, EUCOPE's Secretary General Alexander Natz said, "we're very happy to finish 2022 off on such a strong note, adding these new members who signify excellence and innovation within European life sciences. We look forward to greater collaboration while offering access to our expertise in regulatory and government affairs, which is critical to navigating an ever-changing European landscape of product launches and market access, especially for small and mid-sized companies."
About the new members
Genesis Pharma Group
GENESIS Pharma is a regional biopharma company focused in the commercialization of innovative biopharmaceutical products targeting severe and rare diseases in South East Europe.  Established in 1997, GENESIS Pharma was among the first pharmaceutical companies in Europe to specialize in the marketing, sales and distribution of biopharmaceutical products. GENESIS currently has a strong portfolio in therapeutic areas with high unmet medical need through long-standing strategic alliances with some of the leading global biopharma companies.
Mr. Constantinos Evripides, Co-Founder and CEO of GENESIS Pharma stated: "It is an honor to be included in the European Confederation of Pharmaceutical Entrepreneurs (EUCOPE). Genesis Pharma is a biopharma company founded in Athens in 1997, having recognized biopharma's great potential in effectively treating rare, chronic and severe diseases. Since then, our mission has been to ensure that patients in the countries we operate have direct access to innovative biopharma therapies.  We look forward to joining forces with other innovative biopharmaceutical members towards shaping public policy and increasing access to innovative therapies for patients in Europe. We believe in the power of innovation!"

Mirati Therapeutics
Mirati Therapeutics, Inc. is a clinical-stage biotechnology company whose mission is to discover, design and deliver breakthrough therapies to transform the lives of patients with cancer and their loved ones. The company is relentlessly focused on bringing forward therapies that address areas of high unmet medical need, including lung cancer, and advancing a pipeline of novel therapeutics targeting the genetic and immunological drivers of cancer
Marc Bauer, Vice President, Head of Operations for Mirati said "EUCOPE can give a bigger voice to small and mid-sized innovative companies like Mirati Therapeutics working in the field of biopharmaceuticals."
Moderna
In 10 years since its inception, Moderna has transformed from a research-stage company advancing programs in the field of messenger RNA (mRNA), to an enterprise with a diverse clinical portfolio of vaccines and therapeutics across seven modalities, a broad intellectual property portfolio in areas including mRNA and lipid nanoparticle formulation, and an integrated manufacturing plant that allows for both clinical and commercial production at scale. Moderna maintains alliances with a broad range of domestic and overseas government and commercial collaborators. Most recently, Moderna's capabilities have come together to allow the authorized use and approval of one of the earliest and most effective vaccines against the COVID-19 pandemic.
On joining EUCOPE, Maren von Fritschen, Head of EU Regulatory said "Moderna, one of the most innovative companies in healthcare, will join EUCOPE to strengthen the network of innovative companies to support patients' need in Europe for its strong focus on biopharmaceutical innovations, excellent reputation at the EMA and national Health Authorities in Europe as well as their active engagement  in shaping the EC's revision of the General Pharma Legislation and Orphan Legislation with regards to early patient's access to innovative medicines.
EUCOPE is elated to have these innovative companies join the network and looks forward to greater collaboration and a renewed spirit in its continued quest to drive innovation for life sciences in Europe.
---
Since 2008, the European Confederation of Pharmaceutical Entrepreneurs (EUCOPE) has been the voice of small to mid-sized health technology companies in Europe. Representing 2600+ innovative biopharmaceutical companies directly or through national associations, EUCOPE advocates for sound public policy that supports innovation, while fostering a community built on a shared purpose: improving and saving the lives of European patients through innovative therapies and medical technology. Learn more at www.eucope.org