News / Partnerships - July 27, 2022
EUCOPE joins the Joint Industrial Cooperation Forum of HERA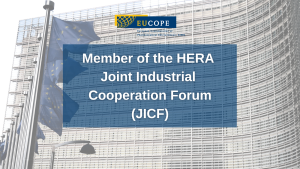 EUCOPE has been selected to join the Joint Industrial Cooperation Forum (JICF), a sub-group of the Health Emergency Preparedness and Response Advisory (HERA) Forum. The first meeting of the JICF took place on 13 July where EUCOPE, along with other industrial organizations and national representatives, discussed with the European Commission how HERA can be better prepared to react to future health crises. The JICF will be meeting at least four times a year.  EUCOPE, through the expert knowledge of its members, is looking forward to future discussions on how to ensure Europe's resilience in times of crisis.
Joint Industrial Cooperation Forum
The Joint Industrial Cooperation Forum (JICF) is being set up as a subgroup of HERA's Advisory Forum to support collaboration with health-related industrial ecosystems in the area of preparedness and response to health crises. Along with the Civil Society Forum, it will provide HERA's Advisory Forum with observations and opinions from a diverse range of interested parties.
Its mandate is to identify and, where possible, reduce congestions within and outside the EU, including market failures and supply chain dependencies that could limit the production capabilities of relevant medical countermeasures and their raw materials.
The Forum should enable HERA to closely follow-up on what is happening across critical supply chains in order to identify and take the appropriate actions in partnership with the industry.
HERA Advisory Forum
This group will bring together Commission's Department for Health Emergency Preparedness and Response (HERA) and technically competent bodies in the Member States.
It will serve as a platform to exchange information and discuss ideas linked to HERA's activities as well as be a space for Member States to share their views. The HERA Advisory Forum was established by Commission Decision C(2021) 6712Search for available translations of the preceding linkEN•••.
The Forum will also serve as a connection between members to facilitate the exchange of views. The topics for discussion, especially supply chains and manufacturing of medical countermeasures as well as epidemiological intelligence and surveillance are sensitive issues.  The HERA Advisory Forum will have 2 sub-groups, the Civil Society Forum and the Joint Industrial Cooperation Forum.
---
Should you have any further questions, please contact Victor Maertens (maertens@eucope.org) or Leander Vranken (vranken@eucope.org).