Member Spotlight / Partnerships - March 30, 2022
EUCOPE Member Spotlight: Q&A with Ferring Pharmaceuticals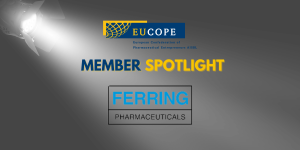 Every month, EUCOPE spotlights a member company and the great work they're doing to advance the life sciences industry and drive innovation to serve patients better. In March, we spoke with Gianpiero Reverberi, Senior Vice President, Europe-Latin America-Canada Area, Ferring Pharmaceuticals.
Gianpiero Reverberi has over 20 years of experience in commercialising novel therapies spanning commercial strategy, business development, business unit leadership and management, launching specialty and orphan drugs across international markets.
Tell us about your organisation and its mission and how you drive innovation internally?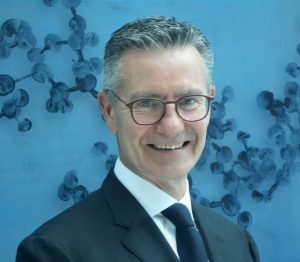 Ferring is a privately-owned, specialty healthcare company founded over 70 years ago. Our core mission is to develop therapeutic innovations that build families and help people live better lives. You probably know us first and foremost for our historical commitment to the field of reproductive medicine and maternal health – in other words: helping people become parents and keeping mothers and newborns healthy, from conception to birth. This is still a major focus of our activity, and one way in which we continue to strive for innovation is by continuing to channel over one third of our entire research and development investment into that area.
Innovating every day means relentlessly tackling unmet needs, wherever they are. This is why Ferring embarked on a decade-long public-private collaboration to develop and launch carbetocin, a heat-stable treatment to prevent excessive bleeding after birth (also known as postpartum hemorrhage or PPH). With 90% of the 70,000 deaths from PPH each year occurring in low- and lower-middle income countries, this is a real step forward – and a breakthrough in terms of developing medicines stable for use in hot climates.
To me, innovation in action also means pushing ever further the boundaries of today's medicine and researching novel approaches to mechanisms of action. For instance, the Ferring teams worldwide are at work right now to bring to life a new gene therapy targeting bladder cancer, a neglected type of cancer with poor outcomes for patients in terms of quality of life and self-image, as well as what will most probably be one of the very first microbiota-based therapies ever, to support patients facing recurring bacterial infections like Clostridium difficile.
And to conclude, I am a firm believer that innovation is above all a mindset. The independence we are enjoying at Ferring as a family-owned company really helps cultivate an entrepreneurial spirit and a much longer-term business perspective that enables us to achieve growth and scale while remaining agile and true to our 'people come first' philosophy.
How do your organisation's activities help patients now and into the future?
We just discussed innovation, and in my view this remains one of the most fundamental ways in which an organization like ours can directly and meaningfully help patients and offer them the promise of a better life. We are also very fortunate that our portfolio of products not only helps us to save lives or improve the quality of life of patients but can also support them in creating and giving life! This is a privilege that not many companies in our sector can enjoy.
But there are many other ways in which I believe Ferring does, and will continue to, help patients very directly.
First off, at Ferring we are literally living the "Project Family" pledge: in other words, our absolute belief in everyone's right to a family and our commitment to helping build families of every shape and size. Project Family underpins everything we do and is the cornerstone upon which many of our external collaborations with patient advocacy organizations are built.
To structure and grow those collaborations, in 2020 we inaugurated a Global Fertility Patient Council that connects us on a quarterly basis with major patient advocacy organizations from around the globe. The Council helps us and them to exchange information about our respective work programmes, compare priorities and scope out how we can build stronger synergies in our action.
We have partnered with patient organizations on a pioneering international study, "1000 Dreams", which captured feedback from people confronted with infertility, their partners, and their carers across nine countries to map drivers and barriers to couples' fertility treatment journey, but also to assess the emotional and physical impacts of that journey, in terms of mental health, relationships and daily activities.
And, just as my final example, I am also very proud of working for a company that has a strong sense of its social responsibility and that is not afraid of addressing more sensitive issues like race-based disparities in maternal mortality, access to fertility care and fertility journey outcomes. We launched in April 2021 a Racial Equality Grants Programme which has received much positive feedback since its inception and continues to go strong today.
What do you see as the biggest challenge facing the life sciences industry today?
In my view, the biggest challenge facing us today – particularly in Europe – is one of trust and by that I mean: how to restore trust between the public sector (policymakers, payers) and our industry about the value we create day after day for patients first of all, for healthcare budget holders, and for society as a whole.
Our companies – and Ferring amongst them – are continuing year after year to develop and commercialise much-needed therapies, and sometimes breakthrough solutions to assist patients living with a pressing unmet medical need, or even fighting for their lives.
And yet, I am concerned by the tone of the public conversation, often too focused in a unidirectional way on the price of those innovative therapies only, without looking at the entire range of benefits generated by these therapies. I am concerned by statements from some European payers and policymakers who may be tempted to antagonise our sector and who increasingly wave threats like greater price transparency or extending the use of solutions like joint procurement of medicines. We need to do more to dispel that anxiety and EUCOPE can play a key role in that.
What are the major health policy issues and themes that you are most focused on in 2022?
In Europe, reproductive medicine will really be at the center of our attention this year, as we expect to continue witnessing major policy evolutions in real time. The French, Spanish and Swiss governments adopted last year new pieces of legislation that represented a significant and epochal progress in terms of fair, equal and inclusive access to medically assisted procreation. It is very likely that these positive examples will inspire more European countries to follow. We are looking in particular at Germany, where the new coalition government has already announced plans to revisit and most probably open up the national reproductive medicine legislation. The United Kingdom is also due to publish this year new legislation to extend the legal duration for storage of reproductive cells as well as what we believe will be an ambitious Women's Health Strategy for England. However, as a recent policy atlas published in December 2021 by two major advocacy organisations well showed, the whole of Europe could and should do better!
When it comes to the EU institutions in Brussels specifically, Ferring – like many other companies in our sector, I am sure – will keep a close eye on how discussions progress on the review of the EU general pharmaceutical legislation and on any more tangible proposals we might see from the Commission by the end of the year. We believe it is essential that all the good elements in today's legislation that helped make Europe a pharmaceutical innovation leader in the global marketplace are fully preserved in whatever comes next. Additionally, the EU's actions and initiatives in the fields of cancer and antimicrobial resistance connect to some of our forward-looking product development programmes.
What attracted you to join EUCOPE and how can we help you achieve your business goals?
Ferring has been a EUCOPE founder company and a member since 2008
Over the years, we have come to appreciate the quality of your support – both from a strategic and day-to-day, tactical perspective – as well as the tailored attention that your leadership and staff continuously pay to any of your members, large or small, especially as you accomplish your mission of guiding us through often complex EU legislative processes and political decisions and of raising the attractiveness of Europe for our industry.
You have acquired over time a distinct voice in the EU landscape, speaking for small to medium-sized pharmaceutical innovators, and we also recognise that you have established yourselves as a credible partner to EU policymakers – and that shared trust is fundamental to be a good ambassador!
I also believe that you can continue providing the best value-added for Ferring and all your member companies by staying nimble and agile as an organisation, which I see can happen in two different ways.
One is by remaining open, collegial and creative (as opposed to being too process-driven) in your work to develop and advocate EUCOPE positions. You are still a smaller organisation compared to certain other industry associations in Europe and in the world, and knowing how to rely synergistically on your member companies' own advocacy efforts or initiatives is a smart way to go
The other is by remaining nimble and agile when it comes to your organisation and structure themselves. The example of your Gene and Cell Therapy Working Group, created ex nihilo only a bit more than two years ago, and of the TRANSFORM Alliance it contributed to instigating at the European Parliament is a very relevant example of EUCOPE reshaping the playing field from scratch and driving the policy conversation.
---
For more information about EUCOPE membership
Contact our Business Development Manager Dante Di Iulio diiulio@eucope.org