Member Spotlight / News - October 28, 2022
EUCOPE Member Spotlight: Q&A with Grifols

Every month, EUCOPE spotlights a member company and the great work they're doing to advance the life sciences industry and drive innovation to serve patients better. In October, we spoke with Cesar Rubio, Associate Director, Government and Public Affairs, Grifols.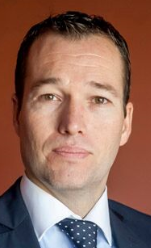 César Rubio is Associate Director, Corporate Affairs at Grifols, his background is in economics, and has worked for more than 15 years in the healthcare industry.
Tell us about your organisation and its mission and how you drive innovation internally?
Grifols is a global healthcare company, founded in Barcelona in 1909, committed to improving the health and well-being of patients around the world. We are one of the world's largest manufacturers of plasma derived medicinal products, a process that begins with the collection of plasma – the liquid portion of blood – at one of Grifols collection centers. Products produced from plasma are used to treat a variety of chronic, rare, and at times life-threatening conditions. An estimated 300,000[1] patients in Europe are treated with a plasma product.
Over the last five years, we have invested over €1.5 billion in research & development across three global innovation hubs, where more than 1100 investigators are working on every stage of product development—from early discovery to advance clinical trials.
How do your organisation's activities help patients now and into the future?
We work to ensure sustainable patient access to our essential medicines in the future. Plasma medicines are unique because in many cases there are no alternative treatments and the availability of plasma medicines depends on the generosity and commitment of plasma donors. We are focused on increasing awareness about the importance of plasma donation and creating a policy ecosystem that will promote and improve patient access to treatment. Europe is dependent on third countries for approximately 40%[2] of its plasma needs and we are actively working with policymakers to reduce this dependency and increase Europe's strategic autonomy.
What do you see as the biggest challenge facing the life sciences industry today?
COVID-19 exposed latent weaknesses in the global pharmaceutical supply chain. Ensuring a resilient supply chain for critical raw materials, including active pharmaceutical ingredients and plasma, is essential to ensure patient access to products. Navigating the transition from "just in time" to "just in case" manufacturing is among the biggest challenges for the industry. Many companies are facing increasing costs while healthcare systems are operating in a resource-constrained environment. In this new paradigm, it is important for companies to ensure policymakers understand the value proposition of their products while advocating for bespoke policies that will protect patient access. The competitiveness of the European life sciences industry, and ultimately the ability of patients to access innovative products, is dependent on the development of a comprehensive EU strategy to support the industry and serve patients.
What are the major health policy issues and themes that you are most focused on in 2022?
At Grifols we are intently focused on policies that have the potential to address long-standing pharmaceutical supply chain and value recognition challenges. The proposal for a new regulation on Substances of Human Origin (SoHO) and the upcoming revision of the Pharma legislation offer the promise of cultivating an environment conducive to increased investment and ultimately healthcare supply chain resilience in Europe. To this end, we have been educating policymakers about the importance of increased plasma collection and patient access to plasma medicines as a means to promote positive patient outcomes. Other key policies impacting the plasma industry include the OMP regulation, HTA regulation and cross-border health threats.
What attracted you to join EUCOPE and how can we help you achieve your business goals?
EUCOPE offers a platform to amplify the priorities of the life science industry in Europe among policymakers. The diversity of membership is valuable in providing a 360-degree view of industry to policymakers. EUCOPE provides expert intelligence to its members, enabling us to stay on top of the latest policy issues, as well as valuable networking opportunities. EUCOPE is a strong voice for industry to when communicating the value that companies bring to health systems across Europe and globally.
---
For more information about EUCOPE membership
Visit our Benefits of Membership Page, or schedule an introductory call with our Business Development Manager Dante Di Iulio diiulio@eucope.org
[1] PPTA Statement on the draft EU Substances of Human Origin Regulation. Plasma Protein Therapeutics Association. 14 July 2022. Available at https://www.pptaglobal.org/media-and-information/press-releases/28-news/ppta-news/1142-ppta-statement-on-the-draft-eu-substances-of-human-origin-regulation

[2] Id.