News - October 28, 2022
Expert Conference on Rare Diseases: Towards a New European Policy Framework: "Building the future together for rare diseases"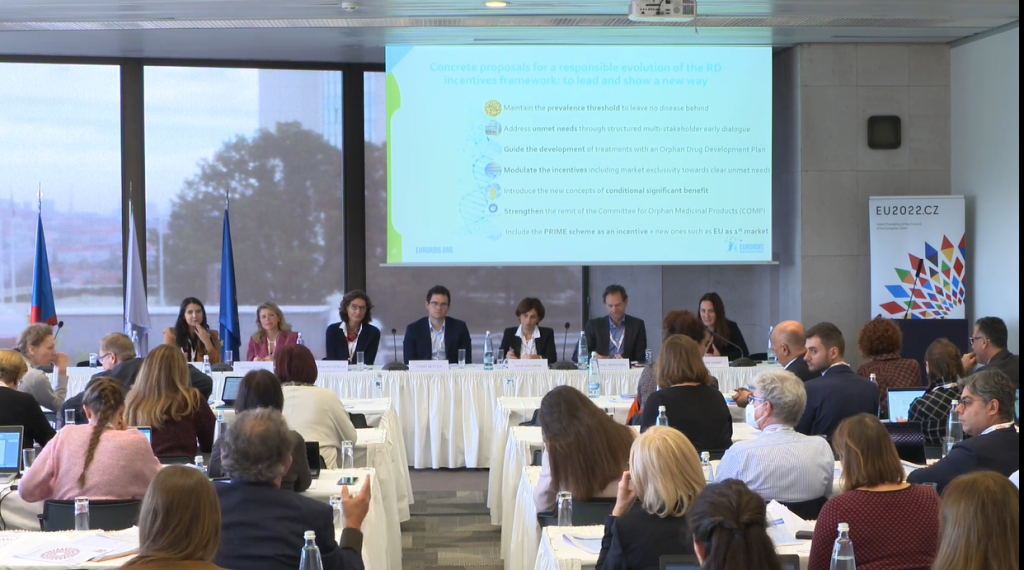 On the 25th and 26th of October 2022, experts on rare diseases joined the Expert Conference on Rare Diseases in Prague organised by the Czech Presidency of the EU together with EURORDIS. The event built on a series of technical and ministerial gatherings on proposals for a renewed strategy for rare diseases following the Slovenian and French presidencies.
The first day was dedicated to presenting a call to action for a European Action Plan for Rare Diseases that would provide a road map for all European countries to work towards common measurable goals and ensure that access inequalities are not exacerbated by a person's country of residence.
The second day focused on the Orphan and paediatric legislation revision and the topic of access to medicines in the morning; and the role of the ERNs and their integration into the healthcare systems in the afternoon. The points concerning the Orphan and Paediatric legislation were also addressed at a conference organised by AIFP and EFPIA on this topic on 20 October at the Czech Permanent Representation to the EU – see recordings here.
The call to Action focuses on the following EURORDIS longstanding asks:
To support the early diagnosis of people living with a rare disease, specifically by supporting the initiatives to ensure availability and equally accessible newborn screening programmes in the EU that can benefit from a coordinated EU-wide approach, as well as to support an approach to an expanded number of disease areas.
To evolve the incentives framework to maintain predictability for sponsors while enhancing Europe's competitiveness through the upcoming revision of the Orphan Medicinal Products and Paediatric Regulation.
To improve access to treatments, including further exploring European cooperation in pricing and negotiations.
To foster holistic care and integrate the European Reference Networks into national health systems.
EUCOPE's Vittoria Carraro, who joined the session on the OMP and Paediatric Regulations revision, brought forward practical arguments against launch conditionalities and a legal definition of unmet needs to be included in the legislation. EUCOPE stressed the need to maintain a level of incentives that allows for continued investment in OMPs and called for an increase of incentives in areas where no authorised products are yet available.
NEXT STEPS: The Czech Presidency aims at bringing the call to action up for discussion at the December EPSCO for the endorsement of the other member states. It is not clear what legal form this would take e.g. it would be included in EPSCO Council's final recommendations of the Presidency.
The full program of the conference is available here.