Member Spotlight / News - September 22, 2023
EUCOPE Member Spotlight: Q&A with SKC Consulting

Every month, EUCOPE spotlights a member company and the great work they're doing to advance the life sciences industry and drive innovation to serve patients better. In September, we spoke with Heike Kielhorn, Managing Partner from SKC.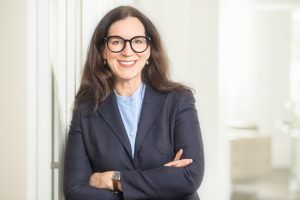 Heike Kielhorn-Schönermark studied business administration and economics in Bayreuth. After graduation she entered the field of economic auditing and corporate financial consulting at KPMG in Munich, later in Hamburg. At HypoConsult she was working in the area of transactional M&A consulting for several years. Subsequently, she joined the international strategy consulting firm The Boston Consulting Group in 1999 with stays in Hamburg, Amsterdam, Paris and London. In her subsequent position as the Director of Corporate Development of a medium-sized stock company in the biotechnology industry she gained extensive knowledge about medicine startup companies.
Heike Kielhorn founded SKC consulting together with Prof. Schönermark in 2005. She has been managing partner since then. Clients from the health care industry trust her expertise, especially in her key ares strategy, business models and digitization.
Tell us about your organisation, its mission and how you drive innovation internally?
At SKC, our core mission is to facilitate access to effective treatments for patients suffering from diseases that have limited or no treatment options available.
SKC is a strategic consultancy that specializes in navigating the increasingly complex market access landscape for innovative drug products. We provide comprehensive support for successful market access, both on a strategic and operational level. With over 20 years of experience, our highly skilled team comprises individuals with diverse backgrounds in Health Economics, Social Sciences, Medicine, and Pharmacy, all working together to fulfill our mission.
We are trusted partners of internationally operating pharmaceutical, biotechnology, and medical technology companies, as well as investors. We serve as strategic advisors or sparring partners, offering guidance and operational support throughout the entire market access process. As facing strategic challenges is in our DNA, we particularly manage projects for orphan drug products, for ATMPs, and for products that set new therapy standards.
Our systemic approach and our extensive network within clinical medicine and science allow us to place the patient at the center of our efforts. We always begin by answering the question: what does the clinical reality look like? Our clients value our hands-on mindset and our custom-made project approach. We are strategic sparring partner and focused, agile implementer – depending on our individual client's need. Whether acting as strategic advisors or agile implementers, our projects have one thing in common: we always think from the end anticipating challenges from the outset.
We are passionately dedicated to resolving complex situations, earning us the moniker "Market Access Special Forces."
How do your organisation's activities help patients now and into the future?
Our work ensures that as many eligible patients as possible receive access to new drugs with proper reimbursement. We place particular emphasis on rare diseases and have launched "The Profcast – Rare Diseases and Their Therapies" podcast series. With this podcast, we aim to shed light on the unique challenges faced by rare disease patients, the corresponding medications, and the obstacles in research, development, economics, and reimbursement. As the Rare Disease Day motto aptly states, "Rare is many."
What do you see as the biggest challenge facing the life sciences industry today?
We perceive a multitude of uncertainties on the horizon, including political instability, economic fluctuations, financial constraints, heightened competition, the impact of artificial intelligence, and a shortage of human resources. However, the impending European Health Technology Assessment (HTA) procedure stands out as a major disruptive force for the life sciences industry. We see parallels to the emergence of Germany's AMNOG, which I navigated alongside my clients 12 years ago as a strategic advisor. Especially in the current climate, where we must prepare without a fixed framework, strategic thinking and forward planning are imperative.
What are the major health policy issues and themes that you are most focused on in 2023?
As a consulting firm based in Germany, we are analysing and strategically assessing various aspects considering legal changes, including the Act for the Financial Stabilization of the Statutory Health Insurance (GKV-FinStG), the BSG ruling on Rapiscan®, addressed in the ALBVVG (Arzneimittel-Lieferenpassbekämpfungs- und Versorgungsverbesserungsgesetz), and the upcoming digital law (DigiG). On the European level, we are actively engaged in shaping the EU HTA process, contributing to initiatives such as the public consultation process for the deliverables of EUnetHTA 21.
What attracted you to join EUCOPE and how can we help you achieve your business goals?
EUCOPE's mission aligns perfectly with ours: improving and saving the lives of European patients through groundbreaking therapies and medical technology. Given the imminent disruptive changes expected with the EU HTA, having an association that facilitates European networking and professional exchange at an equal footing is crucial. The discussions within EUCOPE's working groups enrich our work, and we are enthusiastic about sharing our deep industry knowledge in return.
---
For more information about EUCOPE membership
Visit our Benefits of Membership Page, or schedule an introductory call with our Business Development team office@eucope.org