Member Spotlight - September 26, 2022
EUCOPE Member Spotlight: Q&A with Guardant Health

Every month, EUCOPE spotlights a member company and the great work they're doing to advance the life sciences industry and drive innovation to serve patients better. In September, we spoke with Benjamin Gannon, Head of International Access & Policy, at Guardant Health, and Member of the Board, EUCOPE.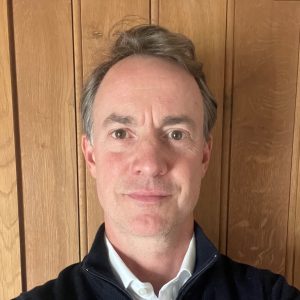 Ben has over 20 years of European and international experience leading access and policy teams in biopharmaceutical and advanced diagnostic companies.  Ben is currently head of access and policy, international, for Guardant Health, a global precision oncology company, leading the development of liquid biopsies for application across the continuum of cancer care.  Prior to Guardant Health, Ben has held senior international access and policy roles, and leading teams with Myriad Genetics, Vertex Pharmaceuticals, GlaxoSmithKline and Johnson & Johnson. Ben is a Board Member of the European Confederation of Pharmaceutical Entrepreneurs (EUCOPE) and resides in Munich, Germany.
Tell us about your organisation and its mission and how you drive innovation internally?
At Guardant Health, our mission is to conquer cancer with data. We believe blood-based testing can transform cancer care by unlocking insights that will help patients at all stages of the disease. We have made great strides in early-stage and advanced cancer, and starting this year, we now offer a blood-based screening test to detect cancer early, when patient survival rates can be impacted most.
Established over a decade ago, our founders knew precision oncology had the power to make a profound impact on the fight against cancer. With great advancements in the field of genomics, it became clear that blood-based testing was the key to transforming cancer care by providing patients and their providers with actionable insights to make informed treatment decisions. We have launched 15 innovative products in the last decade to improve cancer outcomes at every stage.
Guardant Health has administered more than 250,000 tests, served more than 11,000 oncologists, and partnered with over 100 biopharmaceutical companies to date. The driving force of our work at Guardant is our commitment to putting patients first, and we strive to help patients across every stage of cancer live longer, healthier lives.
We are headquartered in Palo Alto, California, but have operations across the globe. in Europe, the team is focused on driving adoption and patient access to these blood-based tests through public-private partnerships with leading oncology institutions and working with industry coalitions and policymakers to ensure policy can support these innovations in cancer care.
How do your organisation's activities help patients now and into the future?
Our path to conquering cancer with data started first in advanced cancer with the launch of Guardant360®, the first-in-kind liquid biopsy to comprehensively sequence a patient's cancer to reveal actionable mutations that help inform treatment decisions. Guardant Reveal™, our second commercially launched blood test, enables residual disease and recurrence monitoring for early-stage patients. For oncologists, the blood test helps to identify patients with residual disease who may benefit most from adjuvant therapy and detects recurrence months earlier than current standard-of-care methods1-6 . Our first indication is early-stage colorectal cancer with additional cancer types to follow.
Our technology can detect the trace amounts of DNA fragments shed from tumors, also known as circulating tumor DNA (ctDNA), within a tube of blood with high accuracy. As we have advanced this technology to be more sensitive, we have been able to go from helping late-stage patients and cancer survivors to now leveraging our blood-based technology to screen for cancer.
We have developed highly sensitive technology to detect cancers early, when they are most treatable, using a simple blood draw. The Shield™ test, launched in the US earlier this year, uses a multimodal approach, integrating genomics, epigenomics and proteomics, to detect early signs of colorectal cancer in the bloodstream. It offers an accurate, easy-to-complete, blood-based approach to cancer screening that has the potential to improve screening rates. We are starting with colorectal cancer, but will soon expand into multi-cancer screening, including lung, pancreatic, and other cancer types, where we believe cancer screening can save lives.
Guardant Health is focused on developing blood-based technology that will continue to advance and progress precision medicine for patients with cancer.  Over the last 10 years, our vision has been to offer high-performing blood tests that span the continuum of care. With the launch of Shield™ earlier this year we are one step closer to realizing this vision, and we are unlocking critical data and insights with each test we run. We have begun to incorporate machine learning and artificial intelligence into our technology, which is allowing for the development of next-generation tests that provide even more information for physicians and care teams, including identifying where the cancer originated, how each tumor changes, and predicting where it will go next.
What do you see as the biggest challenge facing the life sciences industry today?
Cancer is the second leading cause of death worldwide and the disparities in cancer care are striking.7 Today, Europe accounts for a tenth of the world's population, but a quarter of the global cancer cases.  At Guardant Health, we are pioneering innovations that have the potential to impact patient outcomes and bend the mortality curve. But we recognize that with each technical advancement we make and as the industry evolves, these innovations only matter if patients can access them.
Across Europe, there are many challenges hindering more widespread clinical adoption of these life-saving technologies.  Awareness of the value of biomarkers to aid treatment is still too low and whilst there is increasing recognition that reimbursement pathways for advanced diagnostics need to be adapted, more effort is needed so that the benefits of these technologies can reach patients more quickly.
Advanced diagnostics is a new and burgeoning industry with almost all innovation coming from outside of the EU.  Engagement with advanced diagnostics companies and a clear, timed, and unambiguous path to evaluation and commissioning of promising new services would benefit the EU economy.  Timing is critical as to date, no EU country has mastered this new field and first movers will undoubtedly attract significant high-level employment and R&D infrastructure and funding from existing players, whilst also creating an ecosystem for homegrown start-ups and SMEs.
What are the major health policy issues and themes that you are most focused on in 2022?
Guardant Health is actively engaged across Europe on policy relevant to improving understanding, awareness and access to biomarkers and the value of advanced diagnostics.  This multi-stakeholder effort requires work at the intersection of cancer, health and genomics policy.  For example, at the EU-level, Guardant strongly supports the Commission's EU Beating Cancer Plan.  At the national level, the EU Beating Cancer Plan will be "translated" through various programmes covering health service cancer targets (eg. patient referral times, or time to diagnosis), funding for diagnostic technologies (e.g. national level reimbursement codes, or innovation funds) and genomics infrastructure programmes (e.g. national genomics plans).
It is an exciting time (and complex!) to be working in this field with the growing awareness and momentum around how advanced diagnostics can deliver for national and EU cancer plans, and move the promise of personalised medicine to reality.
What attracted you to join EUCOPE and how can we help you achieve your business goals?
Guardant is one of the founding members of the EUCOPE Genomics working group.  This group was established two years ago to support the needs of emerging advanced diagnostics companies operating in Europe.
Engaging with EUCOPE has allowed us to keep abreast of relevant European and national oncology and diagnostics policy.  Two significant advantages of working with EUCOPE are their deep understanding of country reimbursement pathways for advanced pharmaceutical and medical technologies – enabling sharing of learnings across orphan medicines, gene therapies and advanced diagnostics; secondly, their operating model and relationships with national biotech and diagnostic organisations enables flexible engagement with national, as well as EU decision-makers.  Such flexible engagement is a significant benefit to companies launching new technologies into new markets.
---
For more information about EUCOPE membership
Visit our Benefits of Membership Page, or schedule an introductory call with our Business Development Manager Dante Di Iulio diiulio@eucope.org
References
Reinert T, Henriksen TV, Christensen E, et al. Analysis of Plasma Cell-Free DNA by Ultradeep Sequencing in Patients With Stages I to III Colorectal Cancer. JAMA Oncology. 2019; 5 (8): 1125-1131.
Tie J, Wang Y, Tomasetti C, Li L, Springer S, et al. Circulating tumor DNA analysis detects minimal residual disease and predicts recurrence in patients with stage II colon cancer. Science Translational Medicine. 2016; 8 (346): 346ra92.
Tie J, Cohen J, Wang Y, et al. Circulating Tumor DNA Analyses as Markers of Recurrence Risk and Benefit of Adjuvant Therapy for Stage III Colon Cancer. JAMA Oncology. 2019; 5(12): 1710-1717.
Peng J, Li Y, Mo S, Ma X, Hu X, Zhang L, et al. Prognostic value of circulating tumor DNA (ctDNA) detection during adjuvant chemotherapy in patients with stage III colorectal cancer: The interim report of a prospective, observational study. Journal of Clinical Oncology. 2020; 38, no.4_suppl.
Tarazona N, Gimeno-Valiente F, Gambardella V, et al. Targeted next-generation sequencing of circulating-tumor DNA for tracking minimal residual disease in localized colon cancer. Annals of Oncology. 2019; 30 (11): 1804-1812.
Reece M, Saluja H, Hollington P, Karapetis C, et al. The Use of Circulating Tumor DNA to Monitor and Predict Response to Treatment in Colorectal Cancer. Frontiers in Genetics. 2019; 10: 1118.
---