EUCOPE Resources / News - December 21, 2022
🎙️Sounds of Science Episode 11 – 2022 Year in Review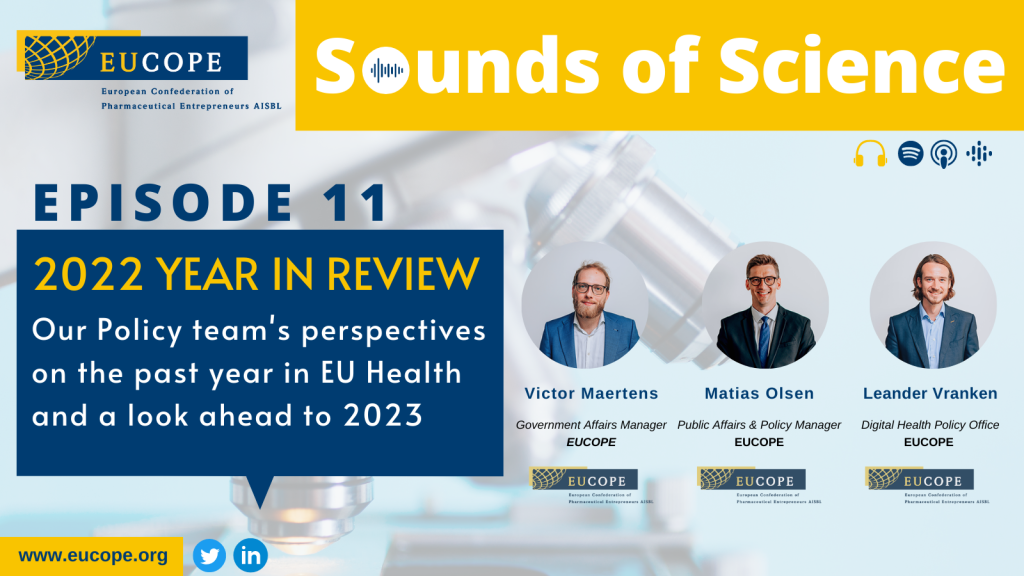 Sounds of Science – Episode 11
2022 Year in Review: Our Policy team's perspectives on the past year in EU Health and a look ahead to 2023
Throughout 2022, there have been successes, challenges, delays and change within the European pharmaceutical industry and we expect more to come in 2023. On the final episode of the year, hear the EUCOPE Policy team – Victor Maertens, Matias Olsen and Leander Vranken – unravel the past year in European pharma and biotech, looking at everything from rare diseases to ATMPs to EU HTA to Digital Health, sharing key highlights and what to expect in 2023. We will be back with more amazing episodes and insights next year, so stay tuned and stay healthy!
This episode is hosted by EUCOPE's Communications & Business Development Manager, Dante Di Iulio
You can listen to Episode 10 and all other Sounds of Science episodes using the links below:
---
If your company would like to put forward a topic for us to discuss or to participate in a future episode, please reach out to our producer, Dante Di Iulio.
For more information about our work on the General Pharmaceutical Legislation or OMP Regulation or how to join our Working Groups, simply visit our Resource page or send an email to maertens@eucope.org.