News - February 23, 2022
EUCOPE speaks on how Europe can be a global leader in the innovation in rare diseases
EUCOPE's Alexander Natz discusses the need for a holistic, integrated, and well-functioning EU environment to foster innovation and re-invest in R&D during the EURONEWS Debates.
Rare diseases pose a significant challenge to the European health institutions. Due to the relative irregularity that people suffer from rare diseases, treatment has historically been hindered by a lack of knowledge, and funding for further research and innovation.
Despite that, big advances have come since 2000 thanks to an EU regulatory framework that incentivised the research and development of treatments for rare diseases. In the intervening 22 years, the number of treatments for rare diseases has massively increased.
With the regulation coming up for review in 2022, EUCOPE's Alexander Natz joined the Euronews debate in Brussels, hosted by Biogen, EURORDIS and EU40, to address the issue of how rare disease innovation can be advanced in the EU.
How is the EU encouraging rare disease innovation?
The European Commission currently provides a number of incentives to the pharmaceutical sector to encourage the development of OMPs. These include fee reductions or exemptions from regulatory assessment procedures, a 10-year market exclusivity period post-authorisation, as well as scientific and protocol assistance, including an early dialogue with the regulator.
While OMP Regulation is estimated to have led to the production of 74 percent of authorised OMPs between 2000-2017,95 percent of rare diseases remain without authorised treatment.
The European Commission published its Staff Working Document on the Evaluation of OMPs in August 2020. According to their evaluation, the Commission believes that Orphan Regulation has over-incentivised innovation, resulting in high prices for orphan medications. The Commission is therefore considering limiting incentives to areas of unmet medical need.
In response to potential policy changes, the European Expert Group of Orphan Drug Incentives is hoping to become a source of potential solutions for the OMP Regulation Evaluation. EUCOPE, along with other rare disease experts like EURORDIS: The Voice of Rare Disease Patients, are part of this Expert Group.
EUCOPE's vision for the EU environment for the development of innovative treatments is to bridge the gaps with actionable proposals, to foster the cycle of biopharmaceutical innovation for rare disease patients. We need a holistic, integrated, and well-functioning EU environment to foster innovation and re-invest in R&D.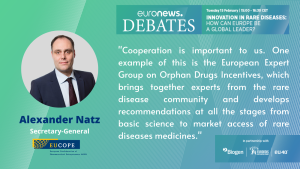 Click on the video below to watch the Full Euronews Debate on Rare Diseases Innovation in Europe or read this full event recap.