Member Spotlight - August 22, 2023
EUCOPE Member Spotlight: Q&A with Dyne Therapeutics

Every month, EUCOPE spotlights a member company and the great work they're doing to advance the life sciences industry and drive innovation to serve patients better. In August, we spoke with Shekhar Natarajan, Vice President – EU Regulatory Affairs, Dyne Therapeutics.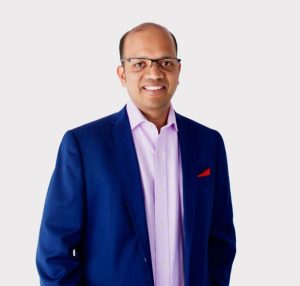 Shekhar Natarajan is Vice President- EU Regulatory Affairs at Dyne Therapeutics. Driven by the unmet need in the muscle disease space, Shekhar is leading the European regulatory strategy efforts at Dyne to help with the registration of Dyne product candidates in the Europe and International markets.  Shekhar has held senior regulatory affairs positions in the pharmaceutical and biotechnology industry over the last 20 plus years with a focus on bringing lifesaving therapies to patients living with rare diseases. He holds a master's degree in pharmaceutical sciences from University of Greenwich, UK. Shekhar is a member of various scientific and regulatory organisations including Regulatory Affairs Professional Society (RAPS) and The Organisation for Professionals in Regulatory Affairs (TOPRA), UK.
Tell us about your organisation, its mission and how you drive innovation internally?
Dyne Therapeutics is a clinical-stage muscle disease company launched in 2019 and is headquartered in Waltham, Massachusetts, USA. Dyne is dedicated to advancing innovative life-transforming therapeutics for people living with genetically driven diseases. The foundation of our efforts is our proprietary FORCE™ platform, which we designed to overcome the limitations of muscle tissue delivery and advance modern oligonucleotide therapeutic candidates. The FORCE platform acts as plug-and-play therapeutics for multiple targets in skeletal, cardiac and smooth muscle diseases.
Dyne has an exceptional team of individuals with deep knowledge of muscle diseases, novel therapeutic modalities, and a world-class scientific advisory board.
How do your organisation's activities help patients now and into the future?
Dyne is committed to people living with serious muscle diseases and has a broad pipeline including clinical programs for myotonic dystrophy type 1 (DM1) and Duchenne muscular dystrophy (DMD) and a preclinical program for facioscapulohumeral muscular dystrophy (FSHD). Each of these disorders has a profound impact on affected communities around the world.
People living with DM1 experience muscle weakness, cardiac arrhythmia and pulmonary abnormalities. DMD patients experience muscle weakness followed by progressive loss of function, loss of ambulation and potentially respiratory/cardiac failure. Patients with FSHD experience progressive wasting and skeletal muscle loss and significant physical limitations.
We believe our FORCE platform provides several advantages, including targeted delivery to muscle tissue, extended time between doses, the ability to re-dose, and the ability to target the genetic basis of disease to potentially stop or reverse its progression.
What do you see as the biggest challenge facing the life sciences industry today?
Although the life science industry has evolved in the last few years with greater understanding around rare diseases and orphan indications, there is still a huge unmet need for therapies that are transformative.
In my view, one challenge for the life-sciences industry particularly for small and medium sized enterprises (SME) is finding the balance between strengthening the pipeline while fostering innovation to advance R&D product candidates to successful registration and launch globally. For small companies, this can be quite challenging because of limited resources and funding as well as navigating regulatory complexities and nuances.
Overcoming these challenges will require an effective and stronger collaboration between the industry, health authorities and patient organisations in order to identify solutions that can help accelerate drug development and registration without compromising safety, compliance, innovation and access.
What are the major health policy issues and themes that you are most focused on in 2023?
Like many biotechnology companies operating within Europe, the reforms to the EU General Pharmaceutical Legislation (GPL) will be a key focus in the coming months and years. There are elements within the proposed updated legislation that we will monitor and evaluate closely such as the changes to the Orphan Medicine Exclusivity framework, the proposed modulation of the Regulatory Data Protection and the proposed concepts of unmet need (UMN) and high unmet need (HUMN).
Although we welcome the Commission's aim to improve broader and more equal access in all EU Member States, the proposed launch conditionality is going to be challenging. Efforts to launch in all the EU Member States in 2-3 years' time may not be feasible for small and medium-sized companies.
On the regulatory front, I think the switch from Clinical Trial Directive to Clinical Trial Regulation is a hot topic with companies looking to transition into Clinical Trial Information System (CTIS) before the deadline. Dyne will continue to closely monitor this important topic.
What attracted you to join EUCOPE and how can we help you achieve your business goals?
Dyne recognises the importance of partnering with organisations such as EUCOPE that share the same goal of creating an environment that fosters rare disease innovation in Europe.
We wanted to join a trade association that understands and supports a clinical-stage biotechnology company as we build our presence in Europe in voicing our opinions and/or concerns on topics such as the transition into CTIS, orphan medicine landscape and regulatory pathways such as PRIME and Conditional Marketing Authorisation (CMA).
EUCOPE offers a unique opportunity and platform for its member companies to network and collaborate on many key topics such as the EU Pharmaceutical Legislation, Clinical Trial Regulation and EU HTA Regulation to partner and drive advocacy efforts.
We look forward to working closely with EUCOPE in identifying opportunities, such as this Member Spotlight, to share Dyne's efforts in working to help fundamentally change the lives of people living with serious muscle diseases.
---
For more information about EUCOPE membership
Visit our Benefits of Membership Page, or schedule an introductory call with our Business Development Manager Dante Di Iulio diiulio@eucope.org