EUCOPE Resources / News - February 22, 2023
?️Sounds of Science #13 on Rare Disease Day 2023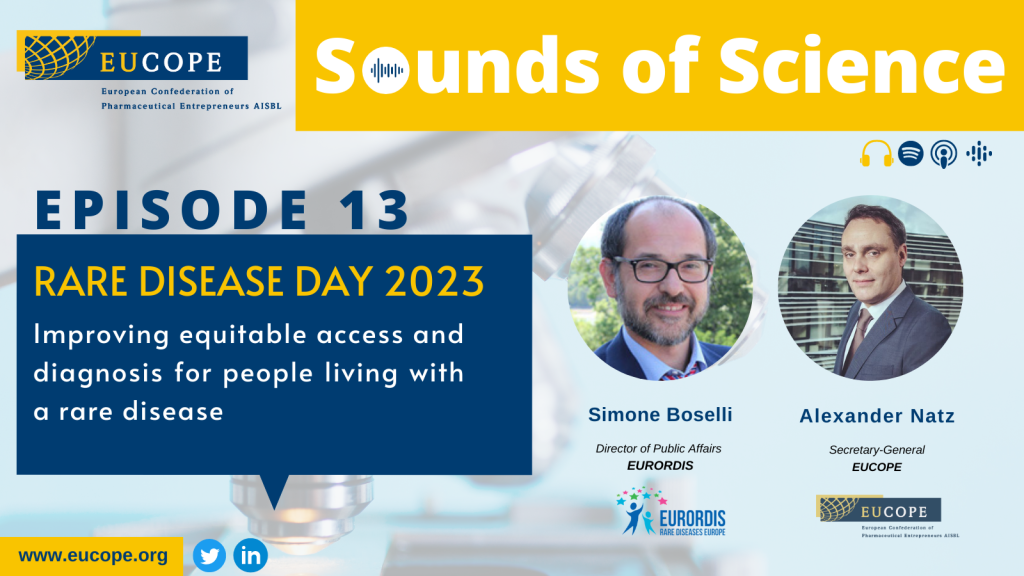 Sounds of Science Podcast – Episode 13
Rare Disease Day 2023: Improving equitable access and diagnosis for people living with a rare disease
Between 27 and 36 million Europeans experience living with a rare disease. Every Rare Disease Day – taking place on 28 February – puts the spotlight back on the complexities surrounding people living with rare diseases. This year's Rare Disease Day comes at a crucial time, weeks before we expect the publication of the pharmaceutical package which will revise the General Pharmaceutical Legislation, Paediatrics, and OMP Regulations, which will set the tone for the EU rare disease ecosystem for at least the next 2 decades.
The theme for this year's Rare Disease Day is equity, so we wanted to take the opportunity to dive into some of these debates and asses what the EU can do in this space, especially against the backdrop of the legislative review.
To breakdown this Rare Disease Day 2023 and its importance for addressing the 95% of rare diseases with no treatment, we're joined by:
This episode is hosted by EUCOPE's Government Affairs Director, Victor Maertens
You can listen to Episode 13 and all other Sounds of Science podcast episodes using the links below:
Episode Highlights
Simone Boselli, EURORDIS – Rare Diseases Europe
"The European Reference Networks are probably one of the best innovations that we have had in healthcare system setting in the European Union in the last 20 years."
"The real opportunity is to capitalize on the early dialogue experience that we have, not only institutionalized but has allowed discussion for the past 10 years between developers, payers, and regulators as observer and patient. We see that there are a lot of benefits to the early dialogues, particularly in clinical trials development."
"The goals for a strategic framework are simple: get diagnosis within six months of getting in contact with the healthcare system, having better and novel therapies by 2030, and reduce mortality and morbidity, particularly in children under five. These goals are measurable and they're aligned with the sustainable development goals and they should be put in practice. But at the moment, we don't have that framework."
"I think the European level for rare diseases has been critical in harnessing the knowledge, then pulling together over a thousand healthcare providers across all member states to join up, approaching research, et cetera. We need to finish the last mile, and to turn the narrative on its head, showing what rare diseases can do for Europe. I believe firmly that rare diseases are a key driver of innovation in the healthcare system setting for all of Europe."
Alexander Natz, EUCOPE
"If you need to enter into price negotiations with national payers or regional payers and have a verdict that there's no unmet medical need makes your life very difficult from the company perspective. So these build-over effects on international pricing and reimbursement procedures are really what I think can be very negative for innovation."
"I think it's really important that we bring the phenomenon of early diagnosis a bit more into the discussion at the Brussels level, because time to diagnosis for patients also means quicker time to access but only if you have the diagnosis."
"People say that we have too many orphans in the same indication or that we have too many orphan drug designations for one compound. These issues which the Commission is trying to address in the orphan space with the Pharma Package are also being addressed at the national level but from two different angles which ends up boxing in innovation and limiting access."
---
With almost half of our members involved in the research and development of therapies for rare diseases, the OMP Working Group offers an opportunity to members to discuss the latest rare disease and orphan medicinal products' national and European legislative and policy developments without neglecting relevant global or international developments. For more information on how your organisation can contribute to it, please contact Victor Maertens maertens@eucope.org. For all of our work related to rare diseases, please visit our Rare Disease Hub.
If your company would like to put forward a topic for us to discuss or to participate in a future podcast episode, please reach out to our producer, Dante Di Iulio.